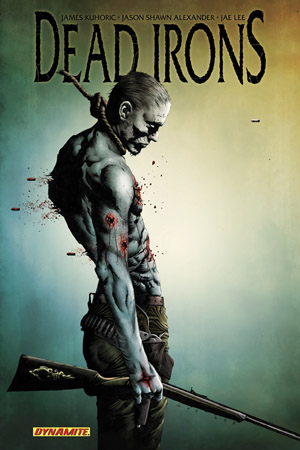 Item Name & Description: Dead Irons #1 by James Kuhoric, Jason Alexander, and Jae Lee (hardcover).
This is the first volume in a completed series. Description:
Three bounty hunter siblings blaze a path of death and destruction across the old west. Traveling by moonlight they rip criminals screaming for mercy from their hiding places, but none is ever given. Each bounty is torn, broken, and bled dry before they are delivered dead and payment collected in gold – no silver. The Irons are the most feared bounty hunting killers in the west, but that fear isn't based on them being the fastest with a pistol or rifle. It's because they're the Walking Dead.
View samples at the publisher's site.
Starting Bid: $10. Two copies available, top two bidders win.
Notes: Donated by Ay-leen the Peacemaker (Diana M. Pho). (If you're reading this on or before February 19, check out Beyond Victoriana's giveaways to celebrate its fourth anniversary!) Ships anywhere.
Bidding is now open and closes Sunday, February 24, 2013 at 11:59 p.m. Eastern Time. More Information.