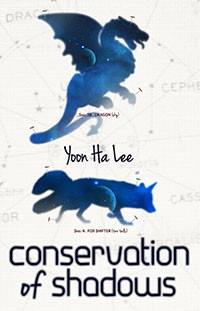 Item Name & Description: two advance reading copies of Yoon Ha Lee's first short story collection, Conservation of Shadows, forthcoming May 2013. Introduction by Aliette de Bodard.
Description: In this debut collection of short fiction from one of science fiction and fantasy's most notable new writers, Yoon Ha Lee often integrates tropes of science fiction with elements of myth to create tales that are both wonderfully fresh and deeply ancient. No matter what the theme, her wide variety of stories are strikingly original and always indelible.
Starting Bid: $5. Two copies available; top two consecutive bids win (edited for clarity 2013-02-23).
Notes: Donated by Prime Books.
Bidding opens on Saturday, February 9, 2013 at 12:01 a.m. Eastern Time and closes Sunday, February 24, 2013 at 11:59 p.m. Eastern Time. More Information.