Item Name & Description: This is a swagtacular collection of merchandise and memorabilia from Rachel Caine's New York Times-bestselling The Morganville Vampires series and hit TV show! It includes:
an autographed copy of The Morganville Vampires, Volume 1
a pair of vampire bunny slippers (a.k.a. the "Rabbit With Big Pointy Teeth" slippers)
the Morganville: The Series paper doll book
"Common Grounds" coffee mug
lenticular double-wide Fall of Night bookmark
Morganville: The Series souvenir postcard
set of six Morganville temporary tattoos (all different designs)
Morganville Resident Identification Card
green rubber Morganville wrist band
All items are new; cat not included. Please feel free to contact me with any questions – and don't forget to check out Ink and Bone!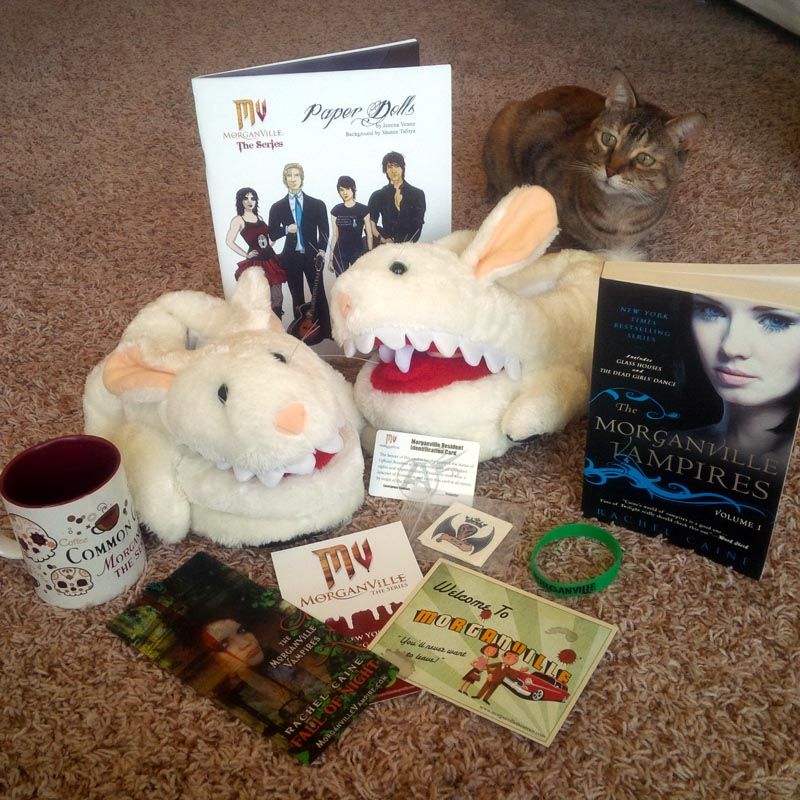 Starting Bid: $25
Notes: I'll ship for free to the US and Canada, and contribute up to $25 to the cost of shipping to other countries.
Bidding is now open. It closes Sunday, May 3, 2015 at 4:00 p.m. (time zone conversions, countdown) unless bids are received in the last ten minutes (learn more).