This page lists the ways you can support Con or Bust: spread the word; participate in the auction; donate money; donate con memberships or other non-monetary support; or buy a T-shirt.
Spread the Word
The simplest thing you can do to support Con or Bust is to tell people that it exists, that it helps fans of color/non-white fans attend SFF cons, and that it's funded solely through donations and its annual online auction. Links to the about page are terrific.
Participate in the Auction
If it's April or May, you can participate in the annual online auction by submitting something to be auctioned or by bidding.
Donate Money
At any time, you can donate money, either as a simple donation or to pay for an auction item. You can use either a credit card or a PayPal account; to use a credit card, after you click the button below, click "Continue" on the left side of the screen, above the credit card logos.
On the "review your donation" screen, please click "Add special instructions to the seller" (in small letters underneath "Purpose" and "Con or Bust – Carl Brandon Society") and indicate whether this is a donation, payment for an auction item, or payment for something else. If it's an auction item, also specify the seller & item. (August 2015: if you're coming here for John Scalzi's audiobook fundraiser, don't stress if you don't specifically note that your donation is for that purpose; all donations during this time frame are being credited toward that fundraising goal.)
Donate Con Memberships etc.
And at any time, you can donate con memberships or other non-monetary support, either as an individual or on behalf of a con. Please email knepveu@steelypips.org.
Buy a T-Shirt
Finally, you can buy a T-shirt by mail. Shirts are now $15 each with US shipping included (please email me to arrange shipping elsewhere). Please be sure to note the size, color, and any mailing instructions in the "Add special instructions to the seller" field in PayPal.
Crew-neck shirts are available in red or green ("forest"), in sizes S-3XL (size information), except that I am out of XXL in red: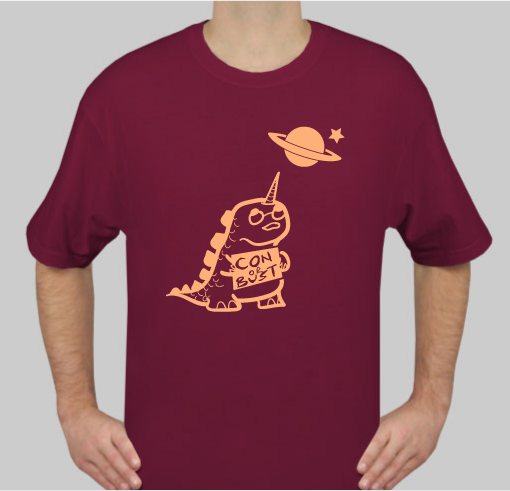 V-neck fitted T-shirts are available in purple in sizes M-2XL (size information):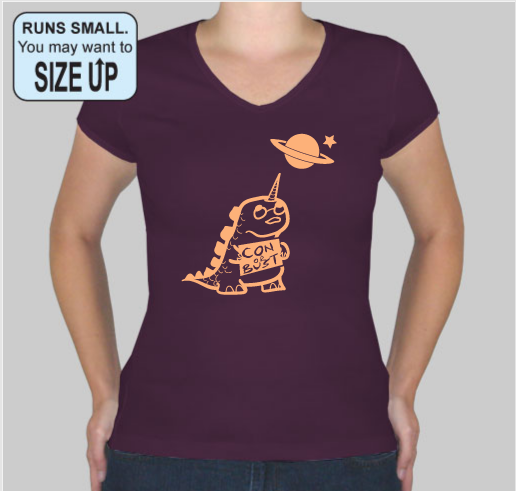 Donations to Con or Bust are tax-deductible to the extent permitted by law, because the Carl Brandon Society, which is Con or Bust's financial agent, is a 501(c)(3) not-for-profit organization. (Update August 28, 2015: it has been brought to my attention that the CBS's IRS status may not be current. I am looking into this. Please rest assured that regardless, 100% of all donations go directly to paying the expenses of fans of color who attend SFF cons; all administrative expenses, such as postage, web hosting, and PayPal fees, are donated by me or by the Carl Brandon Society.)